Things you need to know about 3000W Electric Motorcycle
Do you want to feel the wind rush past as you ride your motorcycle on the open road? Want to have an enjoyable and memorable ride? If so, the 3000w Electric Motorcycle can be an amazing choice for you. This powerful motorcycle can reach speeds of up to 90 km per hour. It also offers a smooth and amazing ride that can be enjoyed by both experienced and new riders alike. The 3000w electric motorcycle is powered by a 72V55Ah battery, which enhances its efficiency and performance. This battery allows you to ride for hours without worrying.
It is a fantastic choice for anyone who is looking for a high-performance, eco-friendly electric motorcycle that won't break the bank. It is a great way to enjoy the freedom of a motorcycle without the noise, carbon emissions, and cost of a traditional gas-powered motorcycle. With its powerful motor and efficient design, this motorcycle is surely going to change your riding experience.
What is a 3000W Electric Motorcycle?
A 3000W Electric Motorcycle is a type of motorcycle that is powered solely by a 3000w brushless hub electric motor. These motorcycles don't require the use of fossil fuels. It is an environment-friendly and cost-effective option that has transformed transportation modes. The best thing about this e-motorcycle is that it poses no harm or threat to the ecosystem.
Why is the 3000W Electric Motorcycle popular?
There are certain factors that make 3000W a popular choice:
1. Evolution of electric motorcycle:
With each passing day, electric motorcycles are becoming increasingly popular. In the past, electric motorcycles were seen as being slow and underpowered compared to their gasoline-powered counterparts. However, the advancement in battery technology and motor design have allowed manufacturers to produce electric bikes that are able to compete with traditional gasoline-powered counterparts in terms of performance and range.

2. Strong 3000W DC brushless hub motor:
This electric motorcycle has a strong 3000W DC brushless hub motor, which gives it an impressive range and performance, with a top speed of over 90 km per hour and a range of up to 150 km.. This key component ensures that the motorcycle is efficient and reliable. Thus, it also contributes to the overall speed of this motorcycle.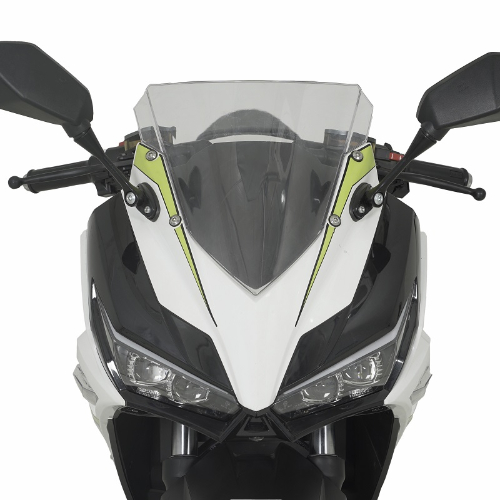 3. LED Daytime Running Light and Dazzling Headlights
It also has LED Daytime Running Lights and dazzling headlights. Along with improving visibility, the bright, vibrant white LED light adds a unique, modern, and appealing look to the motorcycle. During the nighttime, these headlights provide a dazzling light that can be seen for miles. Thus, this electric motorcycle will surely turn heads wherever it goes.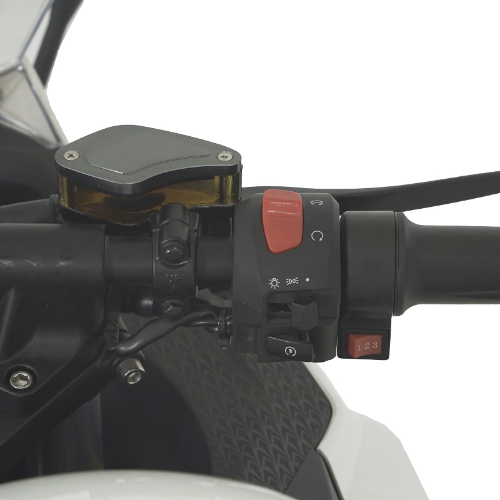 4. Bluetooth Connection Speaker
The plus point of having this 3000w electric motorcycle is that it comes with a Bluetooth-connected speaker. This innovation brings together the convenience of experiencing the thrill of the open road. You can easily enjoy your favorite music while riding. The speakers have a dynamic sound quality that will make your ride more fun and enjoyable. So, if you are looking for a ride and want to hear some music, this vehicle is for you!
5. Double Disk CBS brake system:
This feature offers you a superior and incredible experience with an unmatched level of safety. It helps the rider to have maximum control when braking. The double-disk CBD brake system also lessens the likelihood of wheel lockups and offers smooth and efficient braking.

6. Suspension:
Suspension is a major factor of this beast, which makes it the best choice for you. It is fitted with two hydraulic shock absorbers, one at the front and the other at the rear. This suspension aids in absorbing shock and vibration. It helps a rider to give a comfortable ride. It can also lessen your fatigue from long rides.
How fast can a 3000w electric motorcycle go?
This E-motorcycle can reach top speeds of up to 90 km per hour. It is an amazing feat for an electric-powered machine. The bike is powered by a powerful electric motor that uses a combination of lithium-ion batteries to provide a smooth and consistent ride. For those who are looking to get the most out of their electric vehicle, this is definitely a perfect option for them.
How far can a 3000w electric motorcycle run?
Want to have a seamless, noise-free, and amazing experience of the world as you race down the road? One can only experience such an adrenaline-pushing ride if one owns a 3000w electric motorcycle. This e-motorcycle is designed to offer an unmatched ride of 150 km on a single charge. This feature makes it a great option for those who are looking for an eco-friendly ride.
Moreover, this will not only run for long distances, but you can also enjoy a completely silent ride. These do not make any noise when accelerating. You can also recharge it and get back on the road without having to wait for a long time.
Is the 3000w electric motorcycle safe?
This 3000w electric motorcycle is safe. It comes up with numerous safety features that help to ensure a safe ride. You can use it for off-road driving in the wild or for a daily commute in the city.
Why wholesale electric motorcycles from DOFA?
DOFA is a leading exporter and manufacturer based in China, with a strong reputation in the e-bike industry. We are a global seller of adult e-mopeds, motorcycles, and e-tricycles. We provide all electric motorcycles wholesale and at affordable rates. Considering the changing shift towards sustainability and green energy, we intend to fill the gap in the market with our high-quality products at economical prices. We have established relationships with other businesses in China while making the purchase process smooth and easy for them.
If you want to have electric motorcycles at wholesale and economical rates, then DOFA could be a great choice. We have a modern workshop with 100 skilled engineers and workers. Get your electric motorcycles manufactured by DOFA at highly cost-effective rates. You may also be interested in 5000w electric motorcycle and 10000w electric motorcycle.